← Back to All Stores
francesca's
francesca's will be closed until Wednesday, January 11th.
Our boutiques offer an eclectic mix of carefully-curated clothing, bright baubles, bold accessories, and playful gifts that are as fun to give as they are to receive. Boutiques reveal an array of new arrivals almost daily, so you'll always discover something special and amazing on every visit. And because we are a boutique, we only carry a few of each item, so everything you find is uniquely yours. You can kiss seeing your outfit twin at the party goodbye!
Store Hours
Mon: 10am-6pm (Memorial Day)
Tue: 10am-8pm
Wed: 10am-8pm
Thu: 10am-8pm
Fri: 10am-8pm
Sat: 10am-8pm
Sun: 11am-6pm
Location
Buffalo Court
View Map
---
Sales & Events
---
Employment
Boutique Team Leader, Sales Lead and Stylist Positions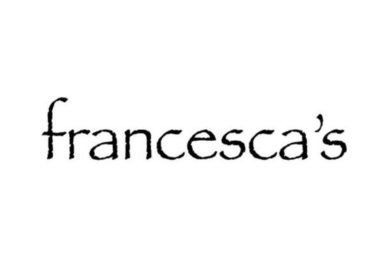 For fashion tips & trends to the latest sales, events, and store openings, visit our blog.