Leasing
BECOME A PART OF A THRIVING DESTINATION.
With an outstanding combination of stores, it's no wonder that West Acres is the number one shopping destination in the region; just ask any of our six million annual visitors. The mall is the exclusive North Dakota and western Minnesota home to many top stores.
Truly a regional showcase, West Acres is the largest shopping center between Minneapolis-St. Paul and Seattle. It's the retail hub of the entire upper Midwest and is located in Fargo, North Dakota, directly off I-29 at the busiest intersection in North Dakota (I-29 & 13th Avenue South). The Fargo, North Dakota-Moorhead, Minnesota metro population is nearly 233,000, and nearly 670,000 people reside within a 100-mile radius of the mall.
For Canadian shoppers, West Acres is a short and easy drive: about 160 miles (approximately 250 kilometers) from the Canadian border or about 220 miles (approximately 354 kilometers) from Winnipeg, the capital and largest city of Manitoba, Canada.
With its welcoming ambiance, philanthropic culture and vibrant future, West Acres creates a shopping experience that is unlike any other in the region. Contact us to learn more.
The District at West Acres
A curated collection of restaurants and experiences, it's a destination unlike any other.  Learn more about The District at West Acres.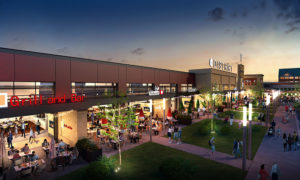 Quick Links
Lease Plan
Site Plan
West Acres Leasing Book