A Safe Shopping Experience
At West Acres, safety has always been our top priority. If and when it feels right for you to visit, we have created policies and procedures to protect the health and safety of our customers, stores and staff. We also ask that you do your part to contribute to a safe experience for all while visiting West Acres.
West Acres  hours are 10am-8pm Monday-Saturday & 11am-6pm Sunday.
Store hours will vary due to COVID. Please contact individual stores to confirm hours.
IMPORTANT UPDATE: Masks are required to be properly worn during your visit to West Acres.
Those who cannot wear a mask due to medical conditions must wear a face shield, no exceptions.
(Children 5 and under are exempt, but strongly encouraged to wear a mask when possible. Masks may be removed for eating & drinking.)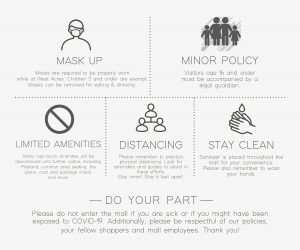 FAQs
Find answers to commonly asked questions below. Don't see your question? Feel free to give us a call at 701-282-2222 or email westacres@westacres.com
What are mall hours?
Mall hours are 10am-8pm Monday-Saturday and 11am-6pm Sunday. Some store hours may vary. Please see individual store listings here. These are temporary hours, and we will keep everybody updated on any changes going forward.
Are stores operating differently?
All our stores will have their own individual guidelines and procedures that they will be following. Some stores, such as salons and restaurants, will have specific guidelines to follow set-forth by the state.  Customers should contact stores directly with any questions.
Do we have curbside pick-up for our stores?
Yes! Click here for the many ways to shop your favorite stores. Many of our stores have curbside pick-up available. Each store has their own process, but we have implemented three designated curb-side pick-up parking zones located in rows 12 and 20 on the north side of the building, and one on the west side of the building near the fountain entrance.  Stores that have curbside options have been marked on our store directory, and customers can contact stores directly for information.
Which amenities are currently closed?
Many of our high-touch amenities will be discontinued until further notice to help with physical distancing as well as to ensure the safety of our employees and guests. Closed amenities include: Playland, Coat and package check, gift wrapping services, the buffalo court piano, center court books, fountain court kaleidoscopes,  drinking fountains and courtesy phone,  and the Roger Maris museum viewing room.
What services are currently offered at Guest Services and the mall office?
Limited services will be provided at Guest Services during this time. Services available will include wheelchair and electric cart rentals as well as mall card sales. We encourage guests to use credit/debit or contactless pay instead of cash, but it is not required. The mall office will remain closed.
Are all restrooms open?
Yes, all restrooms, mothers' rooms and family restrooms are open. We will be cleaning them frequently, and they will be closed throughout the day at various times for deep cleaning. During cleaning, carts will be placed in front of the door with a sign that shows customers where alternative restrooms are located.  Within the restrooms, every other stall will be closed to allow for physical distancing.