A Safe Shopping Experience
At West Acres, safety has always been our top priority. If and when it feels right for you to visit, we have created policies and procedures to protect the health and safety of our customers, stores and staff. We also ask that you do your part to contribute to a safe experience for all while visiting West Acres.
Current Mall Hours
10am-7pm, Monday-Saturday & 11am-6pm Sunday
All stores are now open all mall hours (see below for exceptions).
IMPORTANT UPDATE: Masks are now required to be properly worn during your visit to West Acres.
(Children 5 and under are exempt, but strongly encouraged to wear a mask when possible. Masks may be removed for eating & drinking.)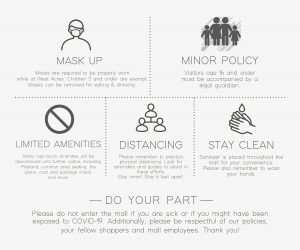 We also encourage you to take the time to read through our safety guide that gives further detail on safety protocols and customer expectations currently in place, before your next visit.
Store Policies
Many of our stores are taking additional precautions to protect their customers and staff. Below you will see store procedure info for certain stores, including any stores with alternate hours. (*Policies and hours are subject to change without notice. Please contact individual stores for details.)
Almost Famous

You must have a mask to enter store (available to buy for $1); customers limited to 2 groups of 2 in store; must use hand sanitizer and participate in a verbal questionnaire before entering the store. Employees will be in full protective gear when providing piercing services. Please see store for complete details.

Bareminerals

Limit 6 customers in store at any one time 

Bath & Body Works

Monday through Thursday 9 am – 10 am for elderly and high risk shoppers

Chick-fil-A

Open for drive-thru, delivery, and curbside pick-up. The dining room and patio are temporarily closed.

Chico's

Open Monday-Saturday 10 am-6 pm, Sunday 12-6 pm

CRAVE: Open 3pm-8pm Sunday-Thursday, 3pm – 9pm Friday & Saturday

Safe seating following state-mandated social distancing guidelines. Curbside pick-up and free delivery available.

Dry Goods

Open Monday-Saturday 11 am-7 pm, Sunday 11 am-6 pm

Eddie Bauer

Fitting rooms are open Monday-Thursday from 12-5 pm.

Essentia Health: Please call 701-364-6600 for hours and information
Foot Locker

Open Monday-Saturday 11 am-7 pm, Sunday 12-6 pm

Forever 21
Granite City: Open Mon-Thur 11am-9pm, Fri 11am-10pm, Sat 10am-10pm, Sun 9am-9pm

Safe seating following state-mandated social distancing guidelines; limited our capacity by 50 percent, creating open space, yet comfortable; trained all our associates on proper personal sanitation practices; full-time coverage of associates whose sole focus will be sanitizing; all tables, menus, and chairs will be wiped down and sanitized after each guest visit; all associates will have been checked for temperature and virus related health issues before every shift; trained our associates on proper guest interaction protocols; our silverware will come to you in a plastic sleeve.

Helzberg Diamonds

Open Monday-Saturday 11 am-7 pm, Sunday 12-6 pm

Hot Topic

Open Tuesday, Wednesday, Thursday 12-7 pm, Monday, Friday, Saturday 11 am-7 pm, Sunday 11 am-6 pm

JCPenney & JCPenney Salon: Open 11am-7pm Monday-Saturday, 11am-6pm Sunday

Limited fitting rooms
Wednesdays and Fridays, JCPenney will open 1 hour early (11am) for High Risk Customers
The South door will be for Returns and Online Orders Only
The West and North (mall entrance) doors will be the only doors open to shoppers. The East door will not be open.

Jewelry & Watch Repair

Open 10 am-6 pm Monday through Friday, closed Saturday & Sunday

JWW Sports Cards & Gaming

Open 11 am-7 pm Monday through Saturday, 11 am-6 pm Sundays

Kay Jewelers

Open Monday-Saturday 11 am-6:30 pm, Sundays 12-5:30 pm

Loft

Open 10 am-7 pm Monday through Saturday, 12-6 pm Sundays
Limit 10 customers in store at any one time

lululemon

Open 12-6 pm daily.
Monday, 10/19 – Friday, 10/23: Shopping is available by appointment only. Call or visit the store to schedule your appointment.
10 guests allowed in store at one time; not accepting cash; fitting rooms open at half capacity

Macy's

Open 11 am-7 pm Sunday through Thursday, 11 am-8 pm Friday & Saturday

Spencer's

Open 11 am-7 pm Monday-Saturday, 12-6 pm Sundays

Talbots

Open 10 am-5 pm Monday through Saturday, 12-5 pm Sundays

Tip Top Tux

Open 11 am-7 pm, Closed Tuesdays & Sundays

Verizon

Open 10 am-6 pm Monday-Saturday, open 11am-5 pm Sundays

Visionworks

Open 11 am-6 pm, closed Sundays

West Acres Pharmacy

Call (701) 282-0285 for hours and information
Open Monday-Friday 9 am-5:30 pm, Saturday 9 am-12 pm, closed Sundays

White House Black Market

Open 10 am-6 pm Monday-Saturday, closed Sundays

Wimmer's Diamonds

Open 11 am-7 pm Monday through Saturday, 12-5 Sundays

Zales

Open 11:30-6 pm Monday through Saturday, 12-5 pm Sundays

Zumiez
FAQs
Find answers to commonly asked questions below. Don't see your question? Feel free to give us a call at 701-282-2222 or email westacres@westacres.com
What are mall hours?
Right now, mall hours are 10am – 7pm Monday – Saturday and 11am – 6pm on Sunday.  Some store hours may vary. Please see individual store listings here. These are temporary hours, and we will keep everybody updated on any changes going forward.
Are stores operating differently?
All our stores will have their own individual guidelines and procedures that they will be following. Some stores, such as salons and restaurants, will have specific guidelines to follow set-forth by the state.  Customers should contact stores directly with any questions.
Do we have curbside pick-up for our stores?
Many of our stores have curbside pick-up available. Each store has their own process, but we have implemented three designated curb-side pick-up parking zones located in rows 12 and 20 on the north side of the building, and one on the west side of the building near the fountain entrance.  Stores that have curbside options have been marked on our store directory, and customers can contact stores directly for information.
Why does West Acres have a minor policy, and does it impact store employees?
Visitors age 16 and under must be accompanied by a legal guardian during their visits to West Acres. This policy is in place during all mall hours and is temporary during our first phase of re-opening. The policy is in place for the safety of our community. Any store employees that are 16 and under are still allowed in the mall to work, and can also travel freely during their breaks for meals, etc.
Which amenities are currently closed?
Many of our high-touch amenities will be discontinued until further notice to help with physical distancing as well as to ensure the safety of our employees and guests. Closed amenities include: Playland, Coat and package check, gift wrapping services, the buffalo court piano, center court books, fountain court kaleidoscopes,  drinking fountains and courtesy phone,  and the Roger Maris museum viewing room.
What services are currently offered at Guest Services and the mall office?
Limited services will be provided at Guest Services during this time. Services available will include wheelchair and electric cart rentals as well as mall card sales. We encourage guests to use credit/debit or contactless pay instead of cash, but it is not required. The mall office will remain closed.
Are all restrooms open?
Yes, all restrooms, mothers' rooms and family restrooms are open. We will be cleaning them frequently, and they will be closed throughout the day at various times for deep cleaning. During cleaning, carts will be placed in front of the door with a sign that shows customers where alternative restrooms are located.  Within the restrooms, every other stall will be closed to allow for physical distancing.