← Back to All Stores
Eyecare Associates, PC
Eyecare Associates Fargo features the latest in eye examination techniques and treatment. Our office has a wide variety of contact lenses and a complete selection of eyeglasses and sunglasses. We are at the forefront of co-managing all types of refractive and cataract surgeries. With our knowledge, experience, trained staff and referral network of ophthalmic specialists, Drs. Kevin Melicher, Barbra Brookshire, and Mason Wilner are ready to assist you with eye care needs from the basic to the most complete.
Store Hours
Mon: 10 am - 9 pm
Tue: 10 am - 9 pm
Wed: 10 am - 9 pm
Thu: 10 am - 9 pm
Fri: 9 am - 9 pm
Sat: 9 am - 9 pm
Sun: 10 am- 7 pm
Location
Main Entrance
View Map
---
Sales & Events
Oct 1 - Dec 31
25% Off First Pair, 30% Off Complete Second Pair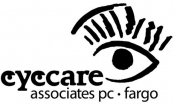 For fashion tips & trends to the latest sales, events, and store openings, visit our blog.